Open Table Design Marking System
Cost effective.
Stable.
High precision.
The laser source in DB series is different from the fiber laser source, which gives our DB series the advantage of marking non-metal materials with fine line and details. Especially for white plastics, the making results are sharp, clear and with a smooth texture.
Focus finder system, pilot laser, easy to use software, motorized Z axis, the emergency stop function, all integrated features ensure your safety, efficiency, and productivity. Besides, the average low power consumption makes it cost-effective enough, but still powerful.
Compact Mini Design Marking System
Compact.
Delicate.
Reliable.
The small table design makes it suitable for office operating environment. With DB series laser source equipped, it has no problem marking on metals, plastics, or even organic materials. Ensuring you the best quality, while keeps your manufacturing cost at a low level.
Meanwhile, focus finder system, pilot laser, easy to use software, motorized Z axis, the emergency stop function, all integrated features will make your marking process more safe, efficient and productive.
Pilot laser will help you with the alignment process, it can either show a box or the exact contexts that you want to mark on the workpiece.
Our easy to use focus finder system, enable you to find the correct focal points with no problems, efficient and saves you more time.
To ensure the top quality and satisfactory user experience, our HBS Products fully comply with EU laser safety regulations.
In HBS, we offer solutions to integrate our products into your production line. Easy installation and integration.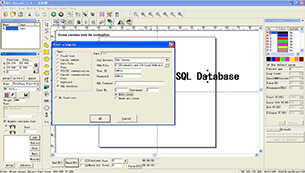 In HBS, we strive to make your factory more efficient and smarter, our Software has integrated with SQL database and equipped with additional extension port, makes it possible to communicate with databases and other controlling parts.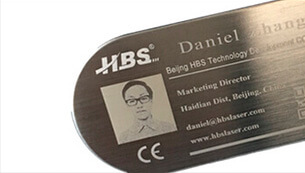 From a simple sentence to a complex photo, our products can mark a perfect result. Our software support image formats, like jpg; bmp; gif; tga; png; tif.
We offer varieties of marking accessories to support your unique marking needs.
Internal Structure of Supply Unit

All control units of our marking system are well organized and integrated in our supply unit.
Marking on Electronic Componets

QR Code on White Plastics

DB laser marking system works perfectly for non-metal materials. It has a wide application range and can be widely used in the packaging industry, rubber industry, 3C industry, integrated circuits industry, plastic products industry, auto industry, etc.